Margaret K. McElderry Books, 2008
My mother bought me this book about a year ago. She thought that I would enjoy it and pointed out some of the poems that reminded her of me. For example:
that are verbs and are nouns.
then you're goin' to jail.
And another one she jabbed me with!
Thanks Mom! An ode to my legendary bad eyesight!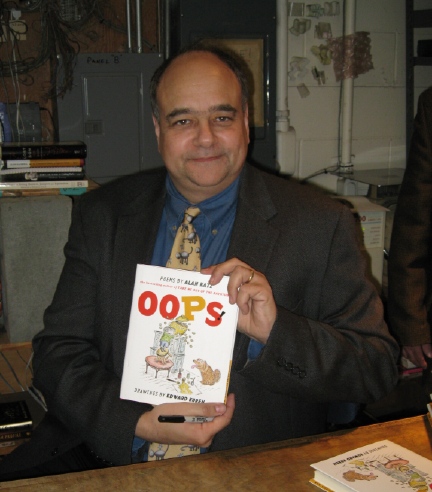 I highly recommend this book for exposing boys to poetry. So much is related to brothers, hating school, and the highly gross things that adolescent boys do in their lives. Example:
Each day I hear Mom whine.
Cute, right? There are a lot of poems about flatulence, snot, and the typical hygiene habits of adolescent boys. Baseball, bodily functions, and the dreaded visit to the dentist are all available
In the epilogue, author Alan Katz shares his experiences throughout elementary school, including some of his writing and even his report cards! Katz tells us about his inability to draw. He writes, "Even today, I can't draw to save my life (although that's probably not ever gonna come up—I can't imagine a doctor examining me and saying, "Mr. Katz, we can't operate. They only way to save your life is if you draw an adorable squirrel.") This self-disclosure is evident throughout the afterword, and even richer in his poetry.

I was first introduced to cartoonist Edward Koren in 1999. My best friend sent me a cartoon from The New Yorker that Koren had drawn. It was of a man at a party with a plate full of food and a woman who comes up to him and says: "Your metabolism is the envy of everyone at this party." (At the time, I was much thinner than I am now!) Koren has added a fun element to Katz's boisterous poetry. The hairy, big-eyed, oddities that Koren has created are a perfect compliment to this collection of poems.